Oil price drops on recovery fears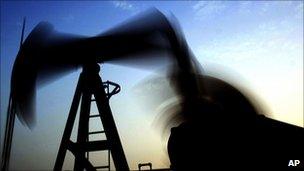 The price of oil has dropped to below $72 a barrel, its lowest level in more than two months, on renewed fears about the strength of the global recovery.
US light crude fell by $1.4, or 2%, to $71.66 a barrel, while London Brent dropped by the same amount to $72.26, after disappointing US home sales data.
Figures showed that existing home sales fell by 27% in July compared with the previous month, to a 10-year low.
The figures also pushed shares on Wall Street lower.
The main Dow Jones index closed down 134 points, or 1.3% at 10,045.
The weak housing sales figures fuelled concerns about the strength of the recovery of the world's biggest economy.
They follow weak jobs market data and worse-than-expected retail sales figures released earlier this month in the US.
These have caused investors to question the strength of demand for oil going forward - the price of oil has now fallen by more than $10 a barrel this month.
"The shaky global economy continues to put pressure on crude prices," said Victor Shum at Purvin and Gertz energy consultants.