Barnes & Noble swings to a loss after legal costs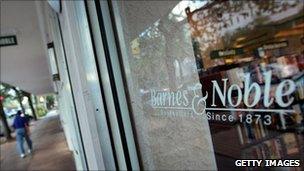 US bookstore chain Barnes & Noble has reported a loss between April and June, in part due to legal costs incurred in a battle with a major shareholder.
The chain posted a net loss for the quarter of $63m (£41m), against a profit of $12m a year ago.
Almost $10m of the loss related to the chain's fight to block billionaire investor Ron Burkle's attempts to take a controlling stake in the company.
Earlier this month, the chain said it may put itself up for sale.
Despite a 20% rise in revenue to $1.4bn, heavy investment in new digital products and a big jump in "administrative expenses" meant the company swung to a loss.
The chain also lowered its full-year profit forecast due to to the ongoing legal expenses incurred in fending off Mr Burkle.
The chain struggled during the downturn as consumers looked to discount bookstores.
Future prospects are also complicated by the emergence of digital books, or so-called e-readers.
Barnes & Noble runs 720 bookstores, making it the largest chain of its kind in the US.
Related Internet Links
The BBC is not responsible for the content of external sites.