Irish credit rating is downgraded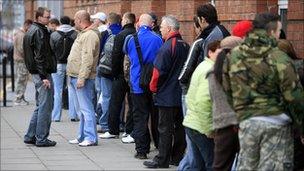 The Irish Republic has had its credit rating downgraded by a leading ratings agency, Standard and Poor's (S&P).
S&P fears that the growing cost of propping up the country's troubled banking sector will further weaken the government's finances.
It now thinks that the Irish government will spend 90bn euros ($101bn; £74bn) helping the banks, 10bn euros higher than previous estimates.
The country's own debt agency described the analysis as "flawed".
It claimed that S&P's outlook was based on an "extreme and unrealistic" scenario of the cost of recapitalising the banks and questioned its calculations.
S&P cut the rating one step to from AA to AA-, its lowest since 1995.
This follows clearance earlier this month for an additional injection of 10bn euros into Anglo Irish Bank.
The agency now forecasts that net government debt - the sum of all borrowing - will rise to 113% of GDP in 2010. That would be a substantial increase on the 64% level recorded in 2009.
It would also make it one of the highest in the eurozone and well above its projections for Spain (65%) and Belgium (98%).
The rating could be cut again if the costs of the bail-out rise or the economic recovery becomes more sluggish, S&P warned, but could rise if the position unexpectedly improves.
S&P's AA rating means it considers a borrower to have "a very strong capacity to meet financial committments".
But a lower rating can make it more expensive for governments to borrow money on the markets - vital for countries needing to finance large deficits, such as the Irish Republic.
Its cost of borrowing, as indicated by government bond yields, rose after the downgrade was announced to 5.38%.
Unlike some other eurozone economies which were under scrutiny following the EU bail-out of Greece, Irish bond yields have risen sharply in the last three months.
This is a sign of investors' falling confidence in the country's ability to pay back its debt.
But although its yields have been rising compared with fast-growing Germany, they are still half of those faced by the Greek government and demand for its bonds has held up.
The Irish economy has been affected by a damaging recession prompted by the global financial crisis and the collapse of the once-booming property market.
This weighed heavily on Irish banks, which have needed massive injections of government money.
The Irish government has already taken steps to cut spending and it maintains that government finances are stabilising.
It expects to be able to reduce its deficit to the European target of 3% by the end of 2014, from this year's expected level of 11.6%.
Related Internet Links
The BBC is not responsible for the content of external sites.