German business confidence makes surprise jump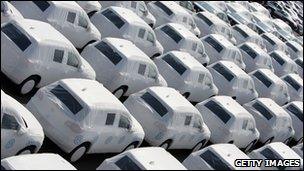 German business confidence showed an unexpected rise in August to its highest level since June 2007.
The Ifo Business Climate Index climbed to 106.9, up from 106.2 in July, defying analysts predictions of a fall.
The survey showed that expectations for the next six months are also positive, though slightly less so than last month.
"The German economy remains robust," says Hans-Werner Sinn, president of the Ifo Institute for Economic Research.
The institute said that the business climate for manufacturers was more favourable than in the previous month. And the outlook for the future was also good, it said.
But with a nod to the economic climate in the rest of the world, the institute said that the stimulus from exports was likely to be weaker in coming months.
Germany is Europe's leading exporter so any reduction in external demand could be bad news. However, the survey shows manufacturers are planning to hire more staff.
The picture is not universally rosy, however.
The business climate in construction has clouded over since July with firms less confident about the prospects for the future. Wholesalers are also reporting a less favourable business climate.
The news of German confidence has strengthened the European currency. The euro is currently 0.2% higher against the dollar with one euro buying $1.26. It also rose slightly against the pound, to 82 pence, making the pound worth 1.2177 euros.
Germany is currently the growth-engine in Europe, experiencing strong GDP growth when most of its neighbours' economies are stagnating or growing much more slowly. In the three months to June, the German economy grew by 2.2% whilst the eurozone as a whole grew just 1%.
So the fact that business leaders in Germany are in an optimistic mood is encouraging for investors.
Related Internet Links
The BBC is not responsible for the content of external sites.