Russia counts the cost of drought and wildfires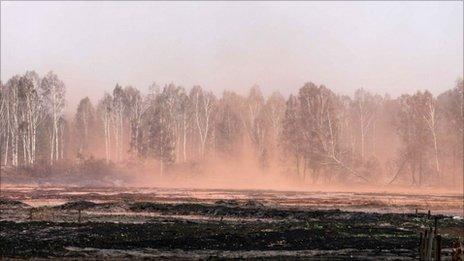 The extreme heatwave, which caused a severe drought and wildfires in Russia, might be over, but both officials and consumers are now busy calculating its cost and trying to work out its consequences.
Russian deputy economy minister, Andrei Klepach, said earlier this week that the drought would take up to 0.8% off this year's economic growth, "or maybe even more than that".
The 0.8% official figure equals 313bn roubles ($10.1bn, £6.6bn at the current exchange rate), but is smaller than the 1.0-1.5% range some experts have come up with recently.
And it is not just about the annual economic growth rate being slower than expected.
In the first two full weeks of August, consumer prices in Russia rose by 0.4%, the same increase seen during the whole month of July.
Mr Klepach thinks that the August inflation rate will be about 0.5% "at best". While for 2010, it will definitely exceed the earlier forecast of 6-7%, it will be lower than the previous year's level of 8.8%, he suggests.
Some smaller dairy farmers have had no choice but to start slaughtering cattle, due to rocketing fodder prices they cannot afford.
Bigger agricultural holdings are in a better position as still have a supply of fodder from last year and are using this year's poor crops to feed their cows.
The agriculture ministry estimates that the sector lost some 32.7bn roubles, as more than a quarter of crops have been destroyed.
But some experts believe the loss figure might be several times higher, if you include other factors such as lower agricultural machinery sales.
First Deputy Prime Minister Viktor Zubkov said earlier this month that Russian banks were looking into prolonging agricultural credits worth 127bn roubles to help the industry.
Russian consumers are already feeling the impact directly, as food prices have started climbing.
Despite the grain export ban, introduced by the government, products such as bread and milk are now more expensive in many parts of Russia than they were at the beginning of the month.
It has become much more difficult to buy buckwheat, a very popular food ingredient among Russians, despite its price increasing by several percent a week recently.
Retail experts say that it is the result of low buckwheat inventories and a poor harvest this year, as well as a higher demand due to consumers' desire to stock non-perishable food - just in case.
Bank Moskvy analysts pointed out that food prices had been going up not because of an actual lack of agricultural products, but mostly because people feared shortages.
"In this conditions it is almost impossible to come up with a relatively reliable inflation forecast," business daily Vedomosti quoted them as saying.
Meanwhile, the catastrophe may have encouraged a shift in policy at the top of government.
Russian Prime Minister Vladimir Putin, who said half-jokingly several years ago that global warming was not a very bad thing for Russia, admitted recently: "This year we understood here in Russia that climate problems are really pressing for us as well."
Among other things, this change of the official approach could mean more money for Russia and its companies.
The country ratified the Kyoto protocol six years ago, but has not been very active in the global market of emission quotas, regulated by the protocol.
If Russia sells its excess quotas, it could potentially bring in billions of dollars.
But in the short term, all eyes are now on Siberia, whose harvest has only recently started, and on the sowing of winter crops.
After a very cold winter and the drought this summer, Russia's agriculture and other industries need some rest from the forces of nature to get back in shape.