Serco sees 21% profits rise despite public sector cuts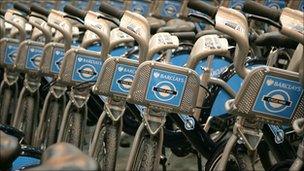 Outsourcing company Serco has seen a 21% rise in its first-half profits, thanks to strong domestic and international growth.
Serco runs prisons in the UK and Australia, train services and the new bicycle-hire scheme in London.
It has increased its revenue by nearly 10% to turn in pre-tax profits of £101.4m.
Despite the prospect of worldwide cuts in public services, Serco said it was well equipped to cope.
"Many of our government and commercial customers are seeking to reduce costs," said Serco's chief executive, Christopher Hyman. "We have the necessary skills to help them."
As governments strive to cut their deficits and reduce spending, the pressure is on sectors such as prisons and health services to cut costs.
Serco believes there will be opportunities to bid for contracts in these areas offering the government efficiencies.
Serco also expressed confidence about expansion overseas. Its international business now accounts for 40% of revenues and the company said it believed there was "significant growth potential".
Related Internet Links
The BBC is not responsible for the content of external sites.