No export limit for Ukraine grain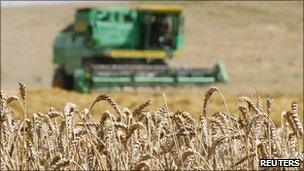 The Ukranian government has said there is no need to limit grain exports.
Wheat prices rose last week when officials there warned that they would have to impose quotas.
A severe drought and extreme heat has led to poor harvests across Russia and neighbouring countries.
Russia imposed an export ban earlier this month and Ukraine, one of the world's top wheat and barley exporters, said it feared shortages of its own stocks if they were sold abroad.
Deputy Prime Minister Viktor Slauta said that there were currently "no grounds to limit grain exports".
However, reports suggest that Ukranian customs continue to unofficially block grain shipments.
When Russia announced its ban it led to fears of global shortages and pushed wheat prices to their highest levels in almost two years.
Earlier this month the US Department of Agriculture (USDA) cut its outlook for world wheat production after sharply revising down its crop forecast for Russia.
But world wheat stocks still remain above crisis levels seen in 2007-08.
The Russian government said on Tuesday that the drought would shave at least 0.8% from the country's economic growth this year. That's the equivalent of £6.6bn or $10.1bn.
Related Internet Links
The BBC is not responsible for the content of external sites.