US new home sales in sharp fall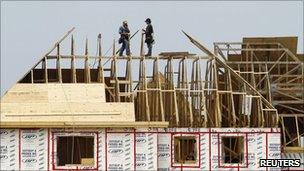 New homes sales in the US fell sharply in July, according to official data, adding to concerns over the weakness of the US economic recovery.
The rate of new home sales fell 12.4% in July from a month earlier to an annualised rate of 276,600 a year, the US Commerce Department said.
That makes it the slowest rate since records began in 1963.
Separate figures showed a smaller-than-expected rise in sales of industrial goods.
The sale of so-called "durable goods" rose by 0.3% in July, the Commerce Department said.
On Tuesday, the National Association of Realtors also reported a sharp drop in sales of existing homes.
Analysts fear the data could reflect weakness in the US economy.
The annualised rate represents what the total number of sales would be if the relative pace for that month were maintained for 12 consecutive months.
Although most analysts had expected a fall in sales, the number was even lower than expected.
"There is nothing good you can say about the number," said Steven Ricchiuto, chief economist at Mizuho Securities in New York.
"The odds of the dreaded double-dip [recession] are increasing."
Keith Hembre, chief economist at First American Funds, said: "If you don't get a pick up [in home sales] in the next couple of months, it sure looks like it's possible the economy could contract in the third quarter".
Signs that the US recovery from recession is weakening have been growing in recent months.
Unemployment remains stubbornly high, with a rate close to 10%, while hiring in the private sector has slowed, as has the rate of GDP growth.
In the last quarter, the US economy was estimated to have grown by an annualised rate of 2.4%, down from 3.7% during the previous three months.