Graduates going to great lengths to get ahead
By Emma Simpson
Business correspondent, BBC News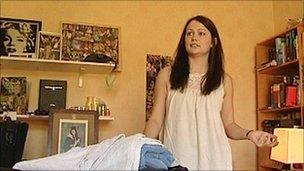 How far would you go to improve your CV and your employment prospects in today's tough jobs market?
With 69 applications for every graduate job, there's rarely been a tougher time for young people to be looking for work.
Increasingly, the name of the game is making yourselves stand out from the crowd.
This year, hundreds of young British graduates are going to China for work experience to broaden their horizons and, most importantly, improve their CVs.
Joanna Page graduated last month with a 2:1 in accountancy and finance from Sheffield University, but has yet to land herself a job.
So she has paid a four figure sum for work experience with a finance company in Beijing. And that's on top of coming out of university with a fair amount of student debt.
We caught up with her as she packed her bags at her home in Newcastle.
"It's just extremely competitive at the moment. Only two out of a group of 15 of us have gone straight into a job," says Joanna.
"It seems a 2:1 degree is almost not enough any more, and so extra work experience and achievements and skills do give you that extra edge over other candidates."
It's a big step for this 21 year old. But she believes it will be worth it.
"Employers will see that I can throw myself into new situations and am not afraid of a challenge. It's a long way from home and it's not been cheap, but I think it's an investment in my future and it's worth it," she says.
With a booming economy, there are plenty of companies in China, it seems, keen to take on free western interns with all the cultural know-how they can bring.
Joe Grimsdale is just finishing his month-long stint at an international marketing agency in Beijing. He graduated from Portsmouth University and is hoping his experience will improve his employment prospects back home.
"Trying to get a job is a nightmare. I've had a really good placement here so hopefully I can try to secure work back home," he says.
"I've had a few leads from bosses and colleagues which could potentially get me into the company back home, but if not then the experience that I've gained will hopefully make me a very appealing candidate to potential employers".
Sending young Brits on internships to China has become a booming business for CRCC Asia. The company was originally formed to improve business links between the UK and China. Now, though, setting up work experience placements is a key part of its work.
The boss, Edward Holroyd Pearce, is even surprised at the numbers: "Last year we sent 250 young people out to China, but this year we should reach 1,000.
"This reflects the growth of China's importance in the world but also the jobs situation.
"I think it is this problem that people are not finding things to do instantly after graduating in the UK, and our programme offers them something different", he said.
CRCC Asia has links to range of companies including law firms and accountancy practices. A handful of interns have even stayed on, having found full-time work in Beijing.
Not everyone, of course, can afford to add China to their CVs. But this dash to the Far East shows just how many extra miles some young people are prepared to go to try to get a job.
Related Internet Links
The BBC is not responsible for the content of external sites.