Global markets help drive Diageo profit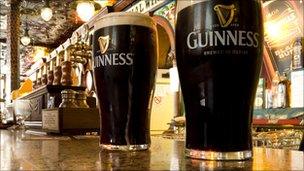 Diageo, the world's biggest drinks maker, saw pre-tax profits increase by 12% to £2.24bn in the year to the end of June.
The firm, whose brands include Guinness, Smirnoff and Johnnie Walker, said developing markets had offset weakness in western Europe and the US.
Exposure to a wide range of markets left it confident for future growth, it added.
Diageo's overall sales grew 5% to £9.9bn.
Like other brewers, the group's shares have been hit by significant rises in the price of wheat and barley.
But chief executive Paul Walsh told the BBC that Diageo had already fixed the prices it paid for many of its raw materials, so did not expect this to have a significant impact on profits, or to lead to price rises.
Diageo had been through a "year of challenges" where "the impact of the global economic crisis varied by market and the strength of the recovery appears to be equally variable," Mr Walsh said.
But he added: "The global diversity of our business, together with the strength and range of our brands... gives us confidence that we will be able to improve on the organic operating profit growth we have delivered this year."
The firm saw strong growth in Latin America, Africa and Asia which make up about a third of group earnings.
It has a large Scotch business in South America and a sizeable beer business in Africa through brands such as Tusker, as well as Guinness. Growth in those markets has kept up throughout the global downturn.
It is also building up a market in China, particularly with Johnnie Walker.
But it also hopes to get a foothold in the much larger Chinese domestic white spirits market, which Mr Walsh said "dwarfs" the market for imported premium brands.
However demand in Europe and North America was weak. Diageo gets about 34% of its sales in North America and more than a quarter from Europe, including the UK.
Mr Walsh said there were encouraging signs that things were getting better in the US - where its biggest selling brands include Captain Morgan rum, Ketel One vodka and Jose Cuervo tequila.
But he told BBC World Business Report that improvement would be gradual over the next 12 months.
"We don't think there will be a sudden snap-back," he said.
Diageo has been cutting jobs as part of a restructuring programme to trim £120m in costs.
It has started an £86m expansion of its bottling plant in Fife - a move which will boost production at the Leven facility and create about 400 jobs.
However, that followed the loss of 700 jobs at the Port Dundas distillery in Glasgow and the Johnnie Walker bottling plant in Kilmarnock.
Related Internet Links
The BBC is not responsible for the content of external sites.