Air New Zealand profits signal airline recovery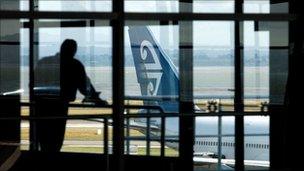 Air New Zealand has reported a fourfold increase in profits, leading signs of recovery in the airline industry.
The flag carrier said net profits for the year to the end of June totalled 82m New Zealand dollars ($58m; £37m), up from NZ$21m in the previous year.
In a busy day for company reporting, airlines elsewhere in the world also delivered positive news.
Both Air China and Australian budget carrier Virgin Blue also reported a recovery in profits.
Air China, one of China's three major state-owned airlines, said its profits in the first half of the year were up 60% on last year, when the global economic downturn hit passenger numbers.
Virgin Blue also reported a return to profit in the last 12 months.
Net profits for the year were up to 21m Australian dollars ($19m; £12m), the carrier said, following the A$160m loss recorded a year ago.
But despite the improvement in profits, the airlines remain cautious over the outlook for the industry.
"Conditions continue to be volatile [and] the soft growth seen at the end of the fiscal year is not sufficient to suggest a consistent across-the-board improvement in conditions," warned Virgin Blue in a statement.
Air New Zealand's chairman also admitted that continued uncertainty in the strength of the global economic recovery had suppressed demand for air travel.
Much of its profits came from cost cutting, which saw operating costs reduced by nearly NZ$600m over the year, and lower fuel bills.
But Air New Zealand insisted that there were "signs of recovery", with demand for air travel expected to continue to gradually improve.
Earlier this week, figures from the International Air Transport Association (Iata) suggested that growth in demand for air travel was continuing to rise.
International passenger demand was 9.2% higher in July than a year earlier, while international scheduled freight traffic was up 22.7%.
But Iata's director general Giovanni Bisignani warned that continued growth would still depend on the strength of the recovery in the wider economy.
"The recovery in demand has been faster than anticipated. But, as we look towards the end of the year, the pace of the recovery will likely slow [and] further growth will be largely determined by consumer spending which remains weak," he said.
In Europe, Germany's second biggest airline Air Berlin gave further details of its second quarter earnings.
On Tuesday, it said the disruption caused by the cloud of volcanic ash that crossed Europe in May had pushed it into the red between April and June.
Revenue for the three months fell to 877m euros ($1.1bn; £718m) from 935m euros a year earlier, meaning losses for the period totalled 57m euros against a profit of 4.7m euros a year ago.
Related Internet Links
The BBC is not responsible for the content of external sites.