Co-op upbeat despite 'challenges'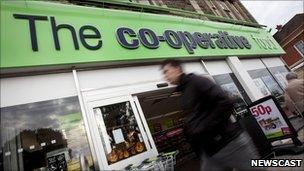 The Co-operative Group has said sales and profits have continued to grow despite a "challenging" year so far.
All divisions had seen "tough economic conditions", it added, saying it did not expect the situation to improve until next year at the earliest.
In the six months to July, profits rose 17% to £260m on sales of £6.9bn.
The integration of Britannia building society into its financial services arm and of Somerfield into its retail division was going well, it said.
In its food division, overall sales rose 11.5% though the "disruption" of converting Somerfield stores to the Co-op brand meant like-for-like sales slipped by 1%.
Chief executive Peter Marks told the BBC that despite tough economic conditions, the firm was not seeing significant changes in the way customers were shopping, with demand still strong for its top-of-the range lines.
He added that the UK's competitive supermarket industry meant customers would be largely shielded from the impact of higher wheat prices.
Co-op's financial services arm, which includes brands such as Smile bank, reported a 41% fall in bad debts. It said profits rose by 34%.
The Co-op runs a range of businesses, from financial and funeral services to travel agents and pharmacies.
It has more than five million members and employs more than 120,000 people.
The organisation can trace its roots back to the founding of the co-operative movement in Rochdale, north-west England, in 1844.