Harry Potter magic hopes at Bloomsbury as profits fall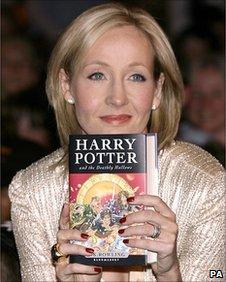 Publisher Bloomsbury is hoping a fresh release of the Harry Potter series will offer a fillip, after profits almost halved in the first six months of 2010.
The books - complete with new jackets - will be launched in November to coincide with the film of the final novel - Harry Potter and the Deathly Hallows.
Bloomsbury made £949,000 in the period, down 48% from £1.8m a year earlier.
But the firm usually does better in the second half of the year.
It said that besides the works of JK Rowling, it hoped a repackaging of The Wombles series would bolster sales.
Meanwhile Numis analyst Lorna Tilbian said she believed the film release of US author Elizabeth Gilbert's Eat, Pray, Love could drive further sales of a book which is already a bestseller in the US and UK.
Bloomsbury has also announced a deal to digitise and publish electronically the papers of former British Prime Minister, Sir Winston Churchill.
The firm was "increasingly well-positioned to be a beneficiary of the structural change in digital publishing", said Ms Tilbian.
Last year's takeover of professional and academic publisher Tottel meant that UK sales rose 12.6%.
But it said that overall, it had been dragged down between April and June by economic uncertainty.
Bloomsbury, which is launching in Australia next year, said it was keen to make more acquisitions in "strategically important areas".
It already has operations in North America and mainland Europe.
Related Internet Links
The BBC is not responsible for the content of external sites.