Asil Nadir symbolised a new attitude to entrepreneurs
By Russell Hotten
Business reporter, BBC News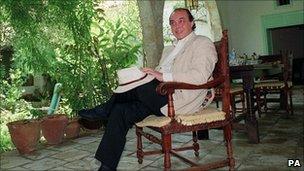 The 1980s were a time of excess and adventure for anyone wanting to make their fortune in London's Square Mile.
In the City, the barriers that kept high finance as gentlemen's club were being dismantled.
And in Whitehall, Margaret Thatcher's go-go policies were unleashing a rampant bull market.
Conspicuous consumption was the mark of the City's new rich. A red Porsche and champagne were symbols of success.
A fresh new comedian called Harry Enfield had a sell-out tour based on Loadsamoney, an obnoxious character forever waving around a wad of cash.
It was a fertile time for maverick entrepreneurs and dealmakers, previously hamstrung by a risk-averse and snobbish City.
And into this heady mix emerged Asil Nadir, whose genuine rags-to-riches story led to him being feted by investors and the media alike.
A £100 investment in his company, Polly Peck, in 1980 would be worth £1.5m by the end of the decade.
Shares in the FTSE 100 business were consistently the world's best-performing stock - until it all turned sour, of course, in the summer of 1990.
Born in Cyprus in 1941, Mr Nadir's first job was selling newspapers at the age of six.
He studied economics at Istanbul University, but never finished his degree and later joined his father in the UK.
The Turkish invasion of northern Cyprus in 1974 led to a call from Istanbul for expatriates to help the economy.
Mr Nadir, whose small London fashion business was listed on the stock market, bought a clothing factory in Nicosia.
In July 1980 Polly Peck launched a rights issue to raise £1.5m of new capital for investments abroad. The growth story began.
He bought a fruit business in Turkey, and then hotels and leisure complexes in the country.
Mr Nadir was the first non-Japanese to buy a Japanese company, the electronics business Sansui. He bought Russell Hobbs appliances. And he made a leap into the US by purchasing the fruit-processing group Del Monte.
But suddenly, seemingly overnight, the Midas touch evaporated.
In August 1990, rumour and innuendo swept the stock market. There were suggestions of irregular share dealings and an Inland Revenue investigation.
Then Mr Nadir launched a bid to take the company private, only to abandon the plan a week later.
Confidence among Polly Peck's investors and bankers was shattered. In September, the Serious Fraud Office raided the company's offices amid allegations Mr Nadir had siphoned off millions of pounds from Polly Peck into overseas bank accounts.
Polly Peck shares went into freefall. A month later, the company folded.
The charmed life of the Sultan of Berkeley Square, a reference to the glamorous central London enclave where Mr Nadir worked and played, was over.
If Polly Peck's fast rise helped symbolise the "greed is good" attitude to capitalism, its even faster demise marked the subsequent reality check.
The company's collapse was, at the time, Britain's biggest corporate disaster, leaving a string of international creditors, wiping out the savings of private investors, and throwing 17,300 people out of work.
A Conservative MP, Anthony Beaumont-Dark, called Polly Peck's failure "one of the most important issues in capitalism since the war".
And this was not just because it raised questions about regulation and governance in the City.
There was talk that Mr Nadir was the victim of conspiracies to bring down this upstart Turkish Cypriot - conspiracies emanating from Turkey's arch rival Greece, or from a xenophobic City elite, or from a hostile political establishment in the UK.
Just paranoia, said the critics. But there were people in politics and the media prepared to entertain the thought that something murky was afoot.
Not long after Polly Peck's collapse, former Conservative Party MP Michael Mates wrote to the attorney general complaining about the way the SFO had handled the case.
Mr Mates subsequently resigned as a government minister after it was disclosed he had given Mr Nadir a watch bearing the inscription, "Don't let the buggers get you down."
The affair was a hugely controversial for the Tories, which had been the recipient of large donations from Mr Nadir, as had several charities and institutions.
Many politicians, business leaders, and socialites who had once enjoyed Mr Nadir's legendary Mediterranean charm and generosity now regarded him as an embarrassment.
Almost three years after Polly Peck's collapse, Mr Nadir fled Britain for the Turkish Republic of Northern Cyprus claiming that he would not get a fair trial on charges of theft.
In May 1993, three months before he was due to stand trial at the Old Bailey, Mr Nadir drove to an airfield in Dorset, boarded a secretly-chartered private jet for a midnight flight to France, and from there made his way to Cyprus.
On Thursday he flew back, determined to fight the charges.