Hewlett Packard trumps Dell again with fresh 3Par offer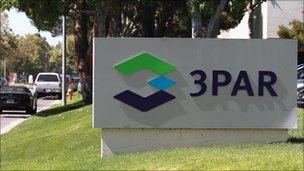 Hewlett Packard (HP) has raised its bid in the battle with rival Dell to take control of data storage firm 3Par, with an offer of $1.8bn (£1.2bn).
The move comes just hours after Dell agreed a deal to take over 3Par, having matched HP's earlier bid of $1.6bn, tabled on Monday.
HP said its offer was "superior" and it was in a better position than its rival to execute the deal.
Observers are now waiting to see if Dell can again match HP's offer.
HP said it expected the deal for 3Par to be completed by the end of the year.
"Not only is our offer superior to Dell's proposal, HP remains uniquely positioned to execute on the combination given the number of synergies between the two companies," said the computer maker's Dave Donatelli.
Earlier, Dell said its deal with 3Par would "dramatically accelerate" the data storage firm's revenue growth.
"Dell has a demonstrated commitment and track record in integrating and growing acquired companies and nurturing their entrepreneurial and innovative cultures," the company said in a statement.
With revenues between April and June almost double those of Dell, HP has greater resources to call upon, analysts say.
"Even though Dell has the balance sheet to step up the offer, they're probably reaching the upper limits of what they can offer," said Ashok Kumar at Rodman & Renshaw.
"At the end of the day, Hewlett-Packard is in a better position to close the deal."
They also questioned whether 3Par was worth much more than the latest offer.
"It is pretty hard to imagine them going much higher, but both companies have a lot of cash so you never know," said Kevin Hunt at Hapoalim Securities.
"I think much higher would be pretty hard to justify financially for share holders but companies have made bad decisions in the past, so I wouldn't rule it out."
The bidding war for 3Par reflects the growing interest in the industry in "cloud computing" - technology that allows users to access files or services remotely over the internet, rather than just from their own local servers.
3Par says its storage systems can cut storage administration costs by up to 90% and infrastructure costs by up to 75%.
3Par had already signed a takeover agreement with Dell last week, in a deal worth around $1.15bn.
But that included a provision for Dell to match competing bids.
Related Internet Links
The BBC is not responsible for the content of external sites.