Independent News & Media sees revenue rise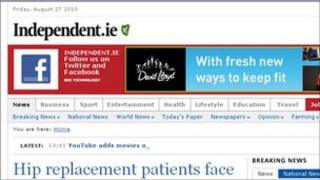 Newspaper publisher Independent News & Media (INM) has reported its first rise in revenue for more than two years.
The Irish group said advertising had improved "progressively" through the first half, pushing revenues up 7.8% to 656.5m euros (£540m).
INM made a pre-tax profit of 63m euros. A year ago it made a 48.5m-euro loss.
The group also revealed that the UK sale of the Independent and Independent on Sunday to Russian billionaire Alexander Lebedev cost it 16.6m euros.
Mr Lebedev bought the loss-making papers for £1, with the sale completed in April.
It had already been announced that as part of the deal, INM would pay Mr Lebedev's Independent Print Limited £9.25m.
Having completed the sale of its UK papers, INM's main interests lie in the Irish Republic, Northern Ireland, Australia, New Zealand and South Africa.