'Sharp fall' in first-time home buyers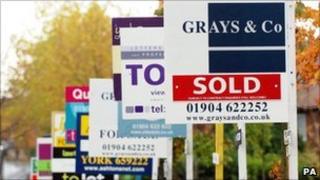 The number of people trying to purchase their first home has fallen sharply in the past year, a report suggests.
About 22% of potential buyers are looking to buy their first home in the next year, compared with 31% at the same point in 2009, property website Rightmove.co.uk said.
It warned the proportion of first-time buyers was half the level needed for a healthy housing market.
Mortgage availability and deposit sizes most concerned would-be buyers.
Director of Rightmove, Miles Shipside, said that the lack of new buyers was causing problems for existing homeowners looking to sell property.
"With the number of prospective buyers at the bottom of the chain being half of normal levels, the question sellers further up the chain will be asking is 'who will be at the bottom of my chain?" he said.
He said the market was now relying on previous owner-occupiers moving out of rented property and getting back on the property ladder, and on investors taking up some of the "first-time buyer slack".
More than half of first-time buyers said mortgage-related issues were among their biggest worries.
Fewer expressed concern about house price falls, with 73% saying they thought house prices would be unchanged or higher in a year's time and only 20% of first-time buyers thinking house prices were set to fall. This was up from 13% three months ago.
Separate figures from the National Housing Federation suggested that in some parts of England, the average 21-year-old would not be able to buy their home until their middle age if they were relying on just their income.