Eurozone unemployment still at 10%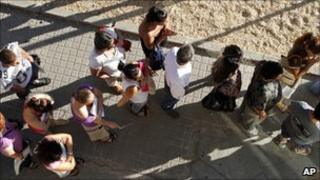 Unemployment in the eurozone remained at a record rate of 10% for a fifth month in a row, according to official figures.
Nearly 16 million people remain unemployed in the 16 countries that use the euro, the EU's statistics agency Eurostat said.
The agency also reported a fall in the rate of inflation in the eurozone.
In August, prices rose by 1.6% year-on-year, down from 1.7% in July, and still below the target of 2%.
"I think the inflation outlook is good," said Christoph Weil, European economist at Germany's Commerzbank.
"The main factors are the weak domestic demand and moderate wage inflation."
Although overall unemployment for the eurozone remained flat, the picture differed from country to country.
Germany, Austria and Malta recorded falls in the unemployment rates, Eurostat said.
Jobless divide
The German unemployment rate fell from 7.6% to 6.9%.
Austria and the Netherlands registered the lowest rates of unemployment, at 3.8% and 4.4% respectively.
Spain still has the highest rate of unemployment at 20.3%.
Analysts said the figures showed a stark contrast in the health of different eurozone economies.
"We have the periphery countries, where the labour market is showing no improvement, and we have the core eurozone, where the labour market is actually pretty good and continues to show good news," said Carsten Brzeski, an economist at ING.
The data has reinforced that view that the European Central Bank will keep interest rates low for the foreseeable future, with inflation less of a concern than economic growth.