Dell pulls out of battle with HP for 3Par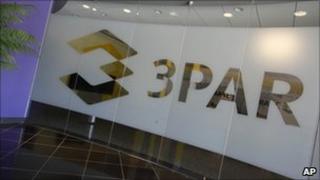 Dell has pulled out of bidding for 3Par after rival Hewlett-Packard raised its offer for the data storage company to $33 a share, or $2.1bn (£1.34bn).
"We took a measured approach throughout the process and have decided to end these discussions," said Dave Johnson, a Dell senior vice president.
Dell, whose $32-a-share bid had been agreed by 3Par's board, said it was entitled to a $72m break-fee from 3Par.
HP and Dell have battled for 3Par since Dell bid $18 per share in mid-August.
Although 3Par had backed Dell as preferred bidder, a statement issued on Thursday said HP's most recent offer was superior.
3Par had earlier given Dell three business days to come back with yet another higher bid.
Both PC makers - the second and third biggest in the world - were looking at 3Par as a way to build up their cloud computing businesses, delivering software, data storage and other services to customers via the internet.
3Par could also help them cut data storage expenses.
3Par shares jumped 4.9% to $33.65 in morning trading. This means the company's price has more than tripled in the last two weeks.
The two companies' battle for 3Par reflects the growing interest in the industry in "cloud computing".
This is a technology that allows users to access files or services remotely over the internet, rather than just from their own local servers.
3Par says its storage systems can cut storage administration costs by up to 90% and infrastructure costs by up to 75%.