US sees 54,000 jobs lost in August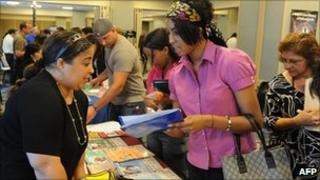 The US economy shed another 54,000 jobs in August, the third month in a row that jobs have been lost, Labor Department figures have shown.
As a result of the overall fall in job numbers, the unemployment rate rose to 9.6%, from 9.5% in July.
However, analysts welcomed news that the the private sector had created a better-than-expected 67,000 jobs.
President Barack Obama described the figures as "positive, but not nearly good enough".
He also said he would announce next week a series of proposals designed to create jobs and boost economic growth.
New jobs
The Labor Department also revised its figures for the previous two months.
Job losses in July were revised down from 131,000 to 54,000, while those in June were revised from 221,000 to 175,000.
The overall loss of jobs in August was because of a fall in government employment.
Government jobs fell by 121,000, largely because of the loss of 114,000 temporary employees who had been taken on to compile the US census, but who finished their work in August.
The drop in government employment came as no surprise, but analysts had expected a smaller rise in the number of private sector jobs.
Employment in the healthcare sector rose by 28,000, while the construction and mining sectors also saw healthy gains.
However, manufacturing employment fell by 27,000.
"The good news in this report is that private sector employment was up 67,000 for the month, so that was a little bit stronger than expectations," said Robert Dye at PNC Financial Services.
"There were positive revisions for June and July - we saw a net positive revision of 130,000 jobs for those two months. Earnings were up for the month and hours were flat."
'Slow recovery'
Recent economic data has raised concerns about the strength of the US economic recovery.
Second-quarter growth figures were revised down last week to an annualised rate of 1.6%, considerably less than many leading European economies.
The housing market has also slowed sharply in the past two months.
But analysts said that the latest jobs numbers would go some way to calming fears that the US economy could be heading back to recession.
"I think we're still looking at a quite slow and painful recovery. You have a lot of people unemployed, so it's a long way back to normal," said Fabian Eliasson at Mizuho Corporate Bank.
"This report might mitigate some talk of double-dip recession, but I think everything is still pointed to a slow recovery."
Christina Romer, who chairs the White House Council of Economic Advisers, said: "Against the backdrop of some unsettling economic data in the past few weeks, today's numbers are reassuring that growth and recovery are continuing."