Need to cut deficit supported, suggests poll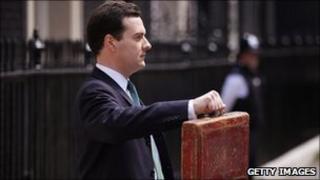 Many people are in favour of taking steps to reduce the government deficit but they are less clear on where spending should be cut, a poll commissioned by the BBC suggests.
Six out of 10 people asked if they were in favour of reducing the deficit said they were, in the poll by Globescan for BBC World Service.
But there was significant opposition to cuts in some areas of public spending.
Some 82% of 1,000 people surveyed were against education and healthcare cuts.
And 66% opposed cuts in military spending.
The telephone survey of 1,000 UK adults was conducted for the BBC between 28 June and 5 July 2010 by the international polling firm Globescan, together with the Program on International Policy Attitudes (PIPA) at the University of Maryland.
Some questions, including the deficit reduction question, were put to just half the sample.
Focus
The poll asked about taking steps "in current economic conditions" to reduce the government's deficit and debt.
The findings showed 60% said they were in favour, 33% were against, and the rest did not know - broadly in line with other recent polls.
When it comes to public spending, the government has already said it will not reduce NHS funding.
It has indicated education and defence will not be immune from spending cuts but will see smaller reductions than other departments.
When asked about the focus for cutting the deficit, 49% said it should be on cutting spending on services and 36% on increasing taxes. A small number said the focus should be on both or neither.
US debate
The BBC World Service poll asked the same questions in a total of 26 countries.
The proportion of respondents in the US supporting steps to reduce the government deficit was lower than in the UK, with 52% in favour.
The debate in the US has focused more on continued measures to promote growth rather than immediate deficit-cutting plans.
The full results of the global survey will be released later this month.