Steel producer Severstal back to quarterly profit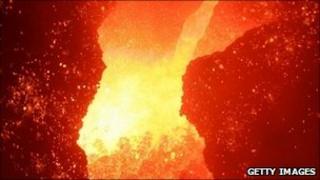 Severstal, Russia's largest steel producer, returned to profit in the second quarter, but missed analysts' expectations.
It made a net profit of $192m (£125m) between April and June. It made a loss of $290m in the same period in 2009.
The profit was hit by a loss from Severstal's discontinued Italian operations, which are up for sale.
Severstal also said that restructuring its loss-making US assets was "the highest priority" for the company.
No dividend
The company's revenues rose by 35% to $4.2bn in the second quarter of 2010 in comparison with the first quarter and by 47% in comparison with the April-June period a year ago, exceeding analysts' estimates.
"All divisions benefited from increased production volumes, higher sale prices and enhanced operational efficiency whilst absorbing higher raw material, energy and transportation costs," Severstal said in a statement.
Chief executive Alexey Mordashov said: "We are well placed to exploit the opportunities in our markets given our competitive cost base, vertically-integrated model and strong financing position."
The company said that its board was not recommending payment of a dividend for the second quarter 2010, but expected the resumption of such payments "in the foreseeable future".