Scam fear over prepayment electricity credit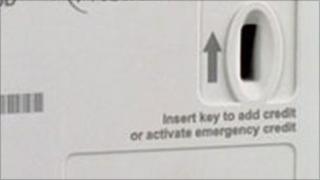 Criminals have managed to clone prepayment meter keys in order to make money by offering discounted credit to thousands of customers.
An estimated 85,000 households have been approached by doorstep salesmen since the start of the summer, according to industry body Energy UK.
But customers who buy the half-price black market credit could end up having to pay again for the energy use.
Energy regulator Ofgem has demanded a report on how the scam has occurred.
"We want Energy UK to set out, among other things, how it was possible for this fraud to occur, and when it was first detected," said Ofgem chief executive Alistair Buchanan.
He said the report, which must be produced within 14 days, would allow the regulator to consider what lessons should be learned and how the fraud could be prevented.
Doorstep sales
The gangs, who sometimes claim to be from the energy companies, typically offer £50 worth of prepayment meter top-up at half the price.
The salesmen then push the cloned key into the householder's meter to add the credit.
Customers get their extra electricity but, since the credit is illegal, they may end up having to pay their energy supplier as well - effectively paying twice.
More than three million people in the UK use prepayment electricity meters.
All of the major electricity suppliers have been affected. They are writing or telephoning customers in England, Wales and Scotland to alert them of the scam.
They are urging people to use the official outlets to buy top-ups such as the Post Office, PayPoint or Payzone and are reminding them that energy companies can identify homes that are using electricity but not paying for it legally.
"Just like when you buy something fake online - like a ticket for a football match or a music concert - you are the one who will end up losing out in the end," said Christine McGourty, director at Energy UK.
She added that the people behind the illegal sales were being sought.
"Energy companies are determined to bring those responsible for these crimes to justice and are working closely with the police at a local and national level to stamp out this illegal activity."
A spokesman for Energy UK said there were no figures showing how many of the 85,000 households affected have been ordered to pay again for their electricity use.
However, along with watchdog Consumer Focus, the industry body has produced posters warning people about the scam.
The spokesman stressed that no official sellers of electricity meter top-ups operate door-to-door. Customers are being asked to report to Crimestoppers anyone they know selling top-ups illegally.