Connaught administration threatens thousands of jobs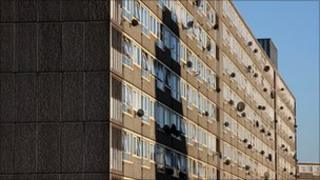 Property and environmental services giant Connaught has been put into administration, putting thousands of jobs at risk.
However, some subsidiaries will not be affected and will continue to "trade normally", the company said.
The company, which specialises in social housing, had already said on Tuesday it was in the process of appointing administrators.
Earlier, the firm said it had failed to secure funding to pay £220m of debt.
'Normal trading'
The company has appointed KPMG as administrators of Connaught plc, which comprises three main operating businesses: Connaught Partnerships, Connaught Environmental and Connaught Compliance.
However, only Connaught Partnerships has been placed in administration. The other two businesses are not in administration and continue to trade as usual.
Connaught Partnerships employs 4,400 people across the UK. It said KPMG hoped that the "majority of staff will be transferred to alternative providers".
Any decisions on redundancies would be announced "as soon as possible".
No other subsidiary in the Connaught group has "gone into any form of insolvency", the company added.
Richard Heis of KPMG said he and his partners "will work closely with customers, employees, subcontractors and alternative providers to ensure services are maintained as far as possible and contracts and employees are transferred to alternative providers.
"The Connaught Compliance and Connaught Environmental businesses are unaffected by the appointment and continue to trade normally under the control of their directors and with the support of their lenders."
Outstanding contracts
Earlier, the GMB union said it would seek to talk to the administrator.
GMB union official Rehana Azam said it would be "urging him to ensure an orderly transfer of the work and the workers back to the public body that outsourced it".
"All this could have been avoided if the councils had continued to run the services themselves," she added.
On Tuesday, Connaught said it believed the funding it needed from its lenders to continue operating would "not be forthcoming", after which trading in the company's shares was suspended.
Connaught has around 180 outstanding maintenance contracts with local councils and housing associations.
Reports suggest that rival firms, such as Mears, are ready to step in to take over some of Connaught's contracts.
Government cuts
Connaught provides a wide range of services, including property management for the public sector and affordable housing projects.
It is also involved in waste management, cleaning and forestry services.
Connaught ran into serious difficulties in recent months after it became clear that a number of contracts would be loss-making.
In June, it warned that public spending cuts, designed to reduce the government's budget deficit, would impact 31 projects, reducing its revenues by £80m this year.
This hit, it said, would push the company into the red for this year.
Shares in the Exeter-based company, which began life in 1982, have lost about 90% of their value since late June.