Halifax says house prices have stabilised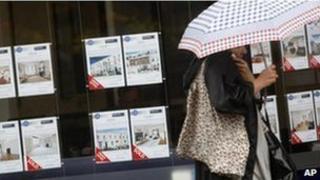 House prices have stabilised, according to the latest survey from the Halifax mortgage lender.
It says the cost of the average UK home rose by just 0.2% in August to £167,953.
That figure was only slightly lower than at the end of 2009 and is still 16% below the peak of August 2007.
Despite the small increase in prices during last month the annual rate of increase declined further, from 4.9% in July to 4.6% in August.
The Nationwide said last week that prices were now only 3.9% higher than a year ago.
"Prices are now at a very similar level to that at the end of last year," said the Halifax's chief housing economist Martin Ellis.
"Activity has also been largely static since the start of the year.
"These developments suggest that the market is broadly stable, with house price inflation having cooled since last year, when supply shortages helped to push up prices," he explained.
Top lenders
Separate figures from the Council of Mortgage Lenders highlight the collapse of mortgage lending in the past two years.
Last year, gross lending was only £144bn, which was less than half the amount lent in 2007.
One side-effect of the collapse of some lenders, and the continued rationing by others, is that the five biggest lenders controlled 82% of all lending - up from 62% in 2007.
The five were the Lloyds banking group (including the Halifax), Santander (including the former Abbey bank), the Nationwide building society, Barclays and RBS.
The nationalised Northern Rock was the sixth largest lender with a nearly 5% share.
"In 2009, therefore, firms were operating in a rationed market, with much lending activity driven by a small number of large banks, some of which were wholly or partly state-owned," the CML said.
"Building societies, with a few notable exceptions, were largely hibernating, and non-banks were often comatose - unable to write new business without access to new sources of retail funding.
"These conditions continue to afflict the mortgage market today and will not change soon," the CML warned.
'Difficult market'
Meanwhile, housebuilder Barratt has reported improved earnings, but a market still stuck in first gear, in its full-year financial results.
The homebuilder showed a full-year loss of £33m, down from £144m the previous year.
Despite the steadily improving conditions, "by historic standards the market remained difficult and activity levels continued to be extremely low," the company said.
The company blamed the continuing lack of mortgage finance for constraining demand, saying the housebuilding industry had responded by opening fewer new sites.
"Whilst the improved balance between supply and demand has stabilised prices, it has done little to address the nation's fundamental housing shortage," it added.