Cable says Diamond appointment highlights bank worries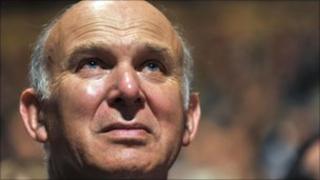 Business Secretary Vince Cable says the appointment of investment banker Bob Diamond to head Barclays illustrates the dangers facing traditional High Street banks in having investment arms.
"We are worried about this combination of the casinos and the traditional banking," said Mr Cable.
Speaking to the BBC Radio 4's Today Programme, he was careful to avoid direct criticism of the appointment.
"It isn't government's job to appoint the head of a private bank," he said.
Markets have not taken Mr Diamond's promotion well.
The bank's share price was down another 3.3% in Wednesday morning trading, at 304p, making it the worst performer in the FTSE 100 index.
This follows a 2.7% fall on Tuesday, the day of the announcement.
Investigation
As a Liberal Democrat, Mr Cable campaigned during the election for big banks to be broken up
"Mr Diamond illustrates in a particularly graphic way what happens when you have an extremely high paid head of an investment bank taking over one of these major international banks," he added.
"It does illustrate the wisdom of the government's decision to set up this banking commission to look at the structure of banks."
He said he hoped the commission would come up with "some strong conclusions" about how to deal with these issues.
The coalition government set up the commission, on which Mr Cable is deputy chairman, in June to investigate the banking industry.
The commission will report its findings by September 2011.
Following the financial crisis, concerns have been raised on both sides of the Atlantic about "universal" banks like Barclays, that combine traditional deposit-taking and lending with higher risk investment banking activities.
Retail deposits are insured by the government, and Mr Cable and others have expressed concern that banks that benefit from this guarantee should not be gambling on the international capital markets.
Barclays' future
Mr Diamond, an American who has made about £100m as head of the bank's investment arm Barclays Capital, will replace the current chief executive John Varley as chief executive next year.
"As a leading global universal bank, Barclays has the right model, the right strategy and above all the right people to deliver for all our stakeholders," Mr Diamond said
His promotion means that Mr Diamond can expect to earn up to £11.5m a year - although some of this will come as part of long-term incentives and will not be paid immediately.
His base salary will be £1.35m, Barclays said, with the rest awarded in bonuses.