HMV sales hit by World Cup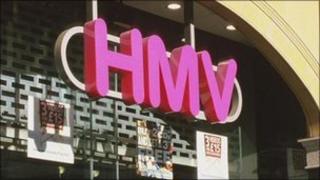 Entertainment firm HMV has said that this summer's football World Cup contributed to a 10.6% fall in quarterly sales in the UK and Ireland.
It also said that trading in the first financial quarter had been "difficult".
After the announcement its shares fell by 10% to 60p in early morning trading in London.
The firm has based its future strategy on the growth in live events and ticketing, as well as seeking a revival in Waterstone's book sales.
It said these factors and a stronger product line-up, particularly in games, could deliver a successful Christmas.
'Turnaround'
"We continue to make good progress on all three parts of our strategy," said Simon Fox, HMV group chief executive.
He said that at Waterstone's, "the initiatives to strengthen our specialist positioning, localise our store offer and revitalise our market leading brand have had a positive impact on trading".
HMV also said that plans were well advanced to operate three further music festivals in the summer of 2011.
The company announced that its group finance director, Neil Bright, would leave the firm in December to join Holidaybreak.