Bmibaby charges passengers for bags that fit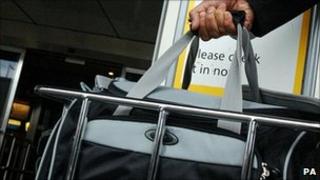 Budget airline Bmibaby has been charging customers to put bags in the hold when they are small enough for the cabin, the BBC has learnt.
The airline has charged £30 for bags that are within the airline's size restriction for cabin bags, a BBC Watchdog investigation has found.
Most airlines use metal gauges at airports to measure luggage.
Bmibaby said the discrepancies were due to the curved edges of the gauges used to determine the size of bags.
Maximum dimensions
Bmibaby stipulates on its website that the maximum size of bag that can be taken on board its planes as hand luggage is 55cm by 40cm by 20cm.
Passenger Kiran Somaiya told the BBC how he had recently booked a return flight to Amsterdam.
Paying for the ticket online, he took a bag that met Bmibaby's maximum dimensions.
At check-in, his bag was put in a Bmibaby gauge where it didn't fit, so he was told he must pay to place it in the hold, which he did for both the outward and return part of his journey.
But, on his return to the UK, he tried his bag at the Bmibaby gauge at Amsterdam, only to find that, this time, it fitted.
"It fitted in with loads of room to spare, and that really got me angry as I thought, 'Hold on, I've paid money to check this bag in, but it's gone in with space to spare.'"
Different gauges
Watchdog designed a box exactly to Bmibaby's hand luggage specifications.
The box was then taken to the National Measurement Office so its dimensions could be independently verified.
The box was then taken on Bmibaby flights from three airports - East Midlands Airport, Jersey, and Amsterdam Schiphol, to test its gauges.
Watchdog found that Bmibaby were using at least three different designs of gauge, with two of these different gauges too small to fit our box.
On one of the flights - from East Midlands Airport to Jersey - Watchdog was charged £30 to put the box in the hold.
Senior management
A Bmibaby insider told Watchdog that some staff were questioning whether the gauges were big enough to fit a 55cm by 40cm by 20cm bag.
"I think all staff were aware when the new gauges first came in that they looked too small, and everybody was gossiping amongst each other, talking about it," she said.
"I'm aware that somebody actually got a physical measuring tape out and checked the size and found out that it was too small."
She also suggested that Bmibaby line managers were aware of the size of the gauges and had told staff it would be passed up to senior managers.
"I know that it has been [pointed out to them] and they're aware - they know that they're too small and they passed it on higher."
Replacing gauges
Bmibaby said: "All gauges have been designed to ensure a standard bag of 55cm by 40cm by 20cm dimensions can be accommodated.
"The discrepancy you have potentially identified comes with respect to the curved corners of these gauges.
"The gauge curves slightly at the 'top' which impacts marginally at the corners on the 20cm and 55cm dimension points - meaning that a hard cornered box of exactly 55cm length and 20cm depth would not fit between the curves.
"Bmibaby is now looking to replace all its gauges with a version that removes this anomaly, by increasing the size of the gauges to compensate for this problem."
This story will be covered on Watchdog on BBC One at 2000 on Thursday 9 September.