BAE Systems mulls US aerospace arm sale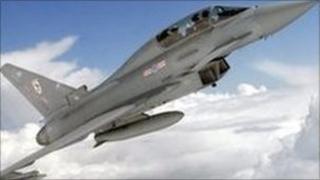 BAE Systems has said it is considering the sale of parts of its US commercial aerospace business.
The UK defence firm said it had instructed JP Morgan and Wells Fargo to advise it on its options for the Platform Solutions division.
Reports suggest that a sale could raise up to £1.3bn.
Analysts believe the firm is responding to the prospect of cuts in defence spending in the UK and US.
BAE said it regularly reviewed its businesses "to ensure it is delivering the best value for shareholders and customers".
Platform Solutions carries out work on both military and commercial projects - specialising in electronic components for the such as cockpit displays for fighter jets and digital engine controls for commercial aircraft.
It is also a leading producer of components for low-emission hybrid buses.
The business employs about 4,200 people at sites worldwide.
Spending cuts
Last week BAE, which is the UK's largest manufacturer, revealed plans to cut almost 1,000 jobs at sites across the UK.
It said the cuts were a result of changes in the defence programme announced in December, together with "other workload changes".
The UK government is due to publish a review of defence spending next month with the industry fearing sweeping cuts.
Defence Secretary Liam Fox must decide whether to scale back, or even scrap, a £5bn programme for BAE to build two new aircraft carriers.
And in the US, the world's largest defence spender, the Obama administration has set out plans to save about $100bn (£63bn) in its military budget over five years.