EU increases 2010 growth forecast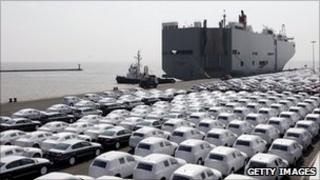 The European Commission has raised its forecast for growth in the EU this year, after "particularly strong" growth in the second quarter.
The commission now expects growth in 2010 of 1.8% in the EU, up from an earlier estimate of 1%, and of 1.7% in the 16-member eurozone, up from 0.9%.
Its projection for the UK is now for expansion of 1.7%, up from 1.2%.
Meanwhile the head of the International Monetary Fund (IMF) warned the world labour market was in "dire straits".
Dominique Strauss-Khan, managing director of the IMF, said the recession had left a "wasteland of joblessness".
"We must acknowledge that the crisis will not be over until unemployment declines significantly," he said, calling growth and jobs the "most urgent problems".
'Spill-over'
Unveiling its latest growth forecasts, the European Commission said: "While activity is still expected to moderate in the second half of the year, the outlook is for a slightly improved quarterly profile compared to the spring forecast, due to the spill-over of some momentum from the second quarter."
However, despite its upward growth revisions, the commission added that the recovery remained fragile and said development in member states was "uneven".
The commission's statistics agency Eurostat based its forecast on updated projections for seven of Europe's largest economies - Germany, France, the UK, Italy, Spain, Netherlands and Poland - which together account for about 80% of EU GDP.
It raised its growth predictions for all seven countries, with the biggest revision made for Germany after its economy grew by 2.2% in the second quarter - its fastest rate in more than 20 years.
In May, it had predicted the German economy would grow by 1.2% this year; now it expects expansion of 3.4%.
"We now have solid ground under our feet," said EU Economic and Monetary Affairs Commissioner Olli Rehn.
"We have started scoring again, but there is no reason to shout for victory. We must remain alert and vigilant."
The commission also issued inflation forecasts, projecting inflation of 1.8% in the EU in 2010 and of 1.4% in the eurozone.