Primark shred policy 'worrying'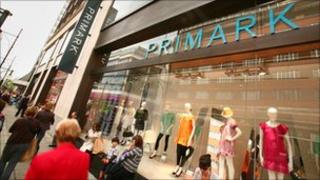 High Street retailer Primark has been criticised by charities for its policy of shredding damaged and unwanted clothes.
Aid organisations have described the practice as "worrying" and "a shame" - saying items could be used to raise vital funds.
Primark said the practice was common and was to protect consumers.
Other retailers confirmed that they donated unsaleable goods to charities to avoid waste.
'Reputation'
Many charities raise money by selling clothes through their own High Street stores - many of which are donated by individuals but some of which come directly from retailers.
The British Heart Foundation said it sold 80,000 items each day and that stock was "the lifeblood of our shops".
"The thought of High Street outlets shredding their faulty garments is very worrying," said retail director Mike Lucas.
"By donating their unwanted items, it can only enhance their reputation as an ethical retailer."
The Association of Charity Shops estimates that about £120m is raised each year by organisations selling donated goods.
Chief executive Warren Alexander said its own recent study suggested that Primark was not the only firm which chose to destroy goods rather than donate them but that there was a mixed picture.
"Shops could certainly sell that stock and get a good profit for it so it's a shame that it does not always happen," he said.
He also pointed to the environmental impact of destroying clothes - from the wasted resources in making them to those ending up in landfill.
The Red Cross would not comment specifically about the role of individual retailers.
But it said that even items which were unfit to sell in its shops could be sold to reputable rag merchants to raise money for its work in the UK and overseas.
On average, a bag of donated goods to its charity shop is worth more than £5, it said.
'Waste'
Marks and Spencer is among those which has partnerships with fundraising organisations.
It said it reduced the price of stock until it was sold but that leftover items are then distributed to various charities - including the Newlife Foundation - which removes the firm's labels from the goods before putting them on sale in its store in Cannock, Staffordshire.
M&S said Newlife raised about £500,000 from its donations, while other items were donated to Oxfam and Shelter.
Monsoon is another High Street chain which donates damaged clothes, many of which also go to Newlife.
It said that it had its labels removed primarily to ensure that items were not taken back to the shops for refunds but that it made no secret that some of its "seconds" were available at a discount.
"There are usually others ways to recycle garments without chopping them up," the firm's head of corporate and social responsibility, Gillian Lipton, told BBC Radio 5 live.
"It does seem a bit of a waste."
Primark defended its actions saying its "policy for removing faulty goods from the supply chain is in common with the majority of High Street retailers and is designed to protect the consumer".
It added: "In order to prevent unsaleable product re-entering the market via unscrupulous traders, we destroy the product at the store."
Earlier this year, there was criticism in the US after bags of clothing were found abandoned outside New York branches of stores including H&M and Wal-Mart.
Items had been slashed or deliberately damaged to make them unusable.