Hewlett Packard buys ArcSight security software firm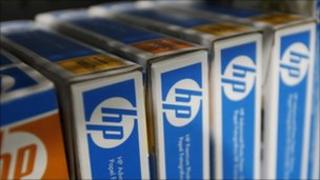 US computer builder Hewlett Packard (HP) has continued its recent buying spree with the $1.5bn (£975m) purchase of security software firm ArcSight.
Its latest target provides software for companies to monitor their data flows and identify hackers and fraud.
HP will offer $43.50 per share, 24% higher than the Californian company's last closing price.
It follows the purchase of data storage company 3Par in August for $2.1bn after a bidding war with rival Dell.
The buyout is expected to be completed by the end of the year.
HP is continuing an expansion strategy begun by former chief executive Mark Hurd.
Mr Hurd left the company under something of a cloud, after being investigated for sexual harassment against a contractor of the company.
He has since accepted a position as co-president at Oracle, leading HP to file a lawsuit against him over fears he will divulge intellectual property to its rival.