Connaught job losses reach 1,400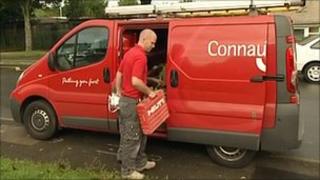 Administrators KPMG announced 700 redundancies on Monday, as well as further contract sales, at Connaught's insolvent social housing unit.
It brings the total number of job losses to 1,400.
The accountancy firm said it hoped some people would be hired by the new contractors.
KPMG added 300 to the 400 redundancies announced earlier on Monday after urgent talks with Norwich City Council failed to save the posts.
All 300 people will lose their jobs with immediate effect.
Another 200 Connaught employees working in Norwich have been told their jobs are safe.
Norwich City Council was one of Connaught's largest local authority clients.
Connaught rival Mears has taken on eight contracts, while KPMG is talking to Norwich City Council over two more.
Connaught Partnerships Ltd went into administration last Wednesday.
"We have now transferred the vast majority of Connaught Partnerships' contracts to new providers, safeguarding the majority of jobs and ensuring continuity of service for tenants," said KPMG partner Brian Green.
The insolvent unit, which specialises in repair and maintenance contracts for social housing, employed a total of about 4,400 workers.
About 2,500 jobs were saved in a deal that sold the majority of the unit's contracts to Lovells, the social housing wing of building firm Morgan Sindall.
KPMG said it hoped Mears would employ the 600 workers made redundant from the contracts it had bought, and advised affected staff to call an enquiry line on 0845 602 2768.
Connaught's separate environmental and compliance units are not in administration and continue to trade normally.