E-mailing boss 'can be effective' for angry consumers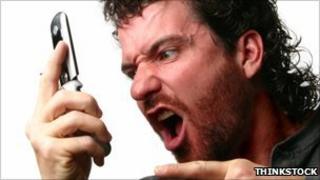 A consumer watchdog has said that e-mailing a chief executive with a complaint can be an effective option for frustrated customers.
Philip Cullum, deputy chief executive at Consumer Focus, said many businesses were "hopeless" at handling customers' gripes.
But many of the best bosses wanted to hear from real people, he added.
The comments come after one activist criticised a building society boss for diverting his e-mails.
Marcus Williamson set up a website 18 months ago listing the e-mail addresses of chief executives.
The website this week gained coverage when he found that the boss at the Nationwide Building Society - Graham Beale - had changed his address, leading to e-mails being forwarded to the customer services department.
Mr Williamson claimed this was because of a surge of complaints from customers about charges for overseas withdrawals, but Nationwide said it was shut because of a flood of spam. A personal address was reinstated a few days later, Mr Williamson said.
Formal process
The activist said he had received replies from most chief executives when he e-mailed them, sometimes just to point him to the most appropriate person in he organisation to forward the enquiry to.
And he said it was a good idea going to the top.
"If people are contacting the chief executive, then the chief executive will realise there is a customer services problem," he told BBC Radio 5 live.
Mr Cullum, of watchdog Consumer Focus, agreed that - although it should not be the first option - it often worked.
"A surprisingly large number of businesses are hopeless at handling complaints, so it is understandable why people want to go straight to the top," he said.
"Generally, when something goes wrong, consumers should always contact the customer services department of the company in question and give them a chance to sort things out.
"Top-performing companies want to hear from aggrieved consumers, so they can put things right and learn for the future."
He added that companies in areas such as post, telecoms, energy and finance had formal processes in place for dealing with complaints and people should make use of these first.
Business calls
"Being persistent is key. There is a strong suspicion that some companies like to string things out until consumers lose interest or hope," he said.
"Writing to the chair or chief executive should not usually be the first resort, but it can be effective if you are not getting anywhere.
"Many of the best bosses like hearing from real people, because it tells them what is actually happening on the ground in their business."
Andrew Smart founded Virtual Sales Team, which calls on behalf of a business to set up appointments with potential clients.
He said that personally he had taken the "last resort" to e-mail a board member after getting frustrated with several unresolved calls of complaint to a call centre.
However, in the business world he said that trying to bypass the normal channels could backfire.
"If we were to mislead a gatekeeper and go to someone unsolicited, then it could ruin a relationship," he said.