How did Lehman's collapse affect the world of finance?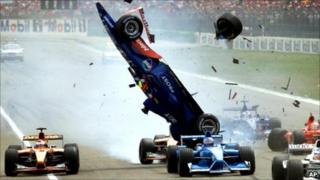 Like a crash in Formula One, Lehman Brother's smash two years ago destroyed a sleek money-making machine, as a global audience looked on and held its breath.
It was dramatic to watch. But how much changed as a consequence? The answer is both more and less than we might have expected.
The consequences for the world economy were extreme. Lehmans' fall contributed to a loss of confidence in other banks, a worldwide financial crisis and a deep recession in many countries.
But what about high finance - the business in which Lehmans was such a prominent player?
Dramatic change
After enormous losses in 2008, most of the world's leading investment banks made big profits again in 2009.
Sir Howard Davies, director of the London School of Economics and a non-executive director of the investment bank Morgan Stanley, insists much has changed.
According to him, "risk is still a dirty word" in the City, or the world of finance. He attributes the big profits of 2009 in part to a bounce back from the very low levels of activity in 2008.
But he says that 2010 will be a difficult year for investment banks and that will be reflected in pay levels.
"I do not think that we will see the kinds of pay that was given to people in 2006 and 2007 for the foreseeable future, if ever," he says.
Little change
Philip Augar, a former investment banker and author of several books on the inner workings of the City, is not so sure that there has been a major change.
He believes that the big bank's size and breadth of activity gives them a competitive edge in financial markets.
As big players, the banks have better information than other market participants.
"Investment banking has always been a volatile business and it will continue to have its ups and downs," he says.
"But in the long run I continue to believe that investment banking will be a very profitable business because of that information advantage".
Risk management
The public and political outcry after the collapse of Lehmans has led to some reforms.
Large bonuses are now paid in shares and with provisions that allow the awards to be clawed back if the business turns sour.
But there are no controls on the overall amount that can be paid out to individuals.
The structure of regulation is being changed with the Bank of England set to take over responsibility for banking supervision from the Financial Services Authority.
But while the structure is important, even more significant is the change in attitudes among regulators and bankers, according to Alistair Milne of the Cass Business School.
"The biggest change is that risk management is taken much more seriously than it was in the past," he says.
New international agreements - the so-called Basel III arrangements - mean that banks will have to hold much larger amounts of capital to absorb potential losses, although the changes will take up to eight years to be fully implemented.
'Same old tricks'
When you put all these reforms together it looks like a lot has altered or is in the process of altering.
New capital requirements, controls on the way bonuses are paid, new regulatory structures and new attitudes to risk taking should all make a difference.
But the suspicion remains that in many ways City banking carries on very much as before.
"The business model that enables investment banks to do all sorts of things - in foreign exchange, in commodities, in stocks and shares, in advising investors, in advising companies, in trading for themselves - that very powerful business model still exists," according to Mr Augar.
It enables the major players to know more about what is happening in the financial world and position themselves to take advantage, he reasons, hence the City is not much changed.
"It's taking slightly less money out of the whole game than it did, but actually it's up to the same old tricks," he says.
Race continues
To return to the Formula One comparison, there are some new rules that slow the cars down a bit.
None of the drivers will forget the Lehmans crash any time soon.
But - with one big exception - the same sleek, money-making machines are still racing around the same circuit.
Nils Blythe's review of the City two year's after the collapse of Lehman Brothers is on The World Tonight at 10 pm on BBC Radio 4.