Deutsche Telekom head Rene Obermann in bribery probe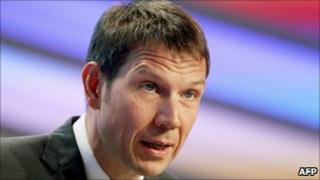 Deutsche Telekom has said its chief executive, Rene Obermann, is being investigated by German prosecutors regarding bribery allegations.
The investigation is part of an inquiry looking at allegations that some of the company's eastern European businesses paid bribes to influence regulators.
"The CEO [Rene Obermann] has rejected the criminal allegations made against him as false," Deutsche Telekom said.
Eight people, including non-Telekom workers, are being investigated.
The German company said its chief executive had been accused of approving dividend payments to a Macedonian telecoms firm on condition that the country's telecommunications market was not opened up to other competitors.
It was alleged to have taken place at a meeting in 2005 between Mr Obermann and the chief executive of Makedonski Telekom (MakTel), a Deutsche Telekom subsidiary.
"The public prosecutor's office is linking this to alleged bribery payments made by third parties," a company statement said.
Deutsche Telekom said the investigation into the eight people came in response to "a request for legal assistance from the US authorities in connection with suspected acts of bribery in Macedonia and Montenegro".
The company added that it had fully co-operated with the US investigation, which has been underway for four years, and that Mr Obermann had assisted as a witness in 2009.
"No allegations have been made against the CEO personally at any stage of the US investigation," Deutsche Telekom said.
US investigation
Previously, an internal enquiry carried out by Deutsche Telekom's subsidiary in Hungary, Magyar Telekom, found that contracts in Macedonia and Montenegro worth 31.9m euros were made for "illegitimate" purposes.
The internal report looking at Magyar's expenditures in 2005 and 2006, was initiated by US authorities following irregular accounting.
Magyar was listed in the US which gave authorities there jurisdiction over it.
The report found that in the case of Macedonia, "a number of these contracts were undertaken to obtain specific regulatory and other benefits from the government of Macedonia".
Following the internal investigation, US authorities have been trying to find out whether any of Deutsche Telekom's management were actively involved in the illegitimate contracts or gave them tacit approval.