Demand for pilots is 'set to soar' as plane travel grows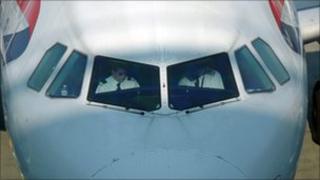 The global aviation industry will need to train and employ almost half a million new pilots over the next 20 years, according to the US aircraft manufacturer Boeing.
In addition, more than half a million new maintenance staff must be found, the aerospace giant said.
Currently, some 233,000 pilots and 100,000 mechanics and engineers work for airlines worldwide, it said.
About 40% of the extra demand would come from Asia, Boeing said.
Limited training capacity
Some 466,650 newly trained pilots and 596,500 newly trained maintenance staff will be needed between 2010 and 2029, Boeing predicted.
With demand set to rise particularly fast in Asia, especially in China, some 180,600 of the pilots and 220,000 of the mechanics would be needed there.
Adapting training regimes is a major challenge for the industry, said Roei Ganzarski, chief customer officer at Boeing Training and Flight Services.
"The infrastructure right now in the Asia Pacific is not necessarily on a scale that can address this entire requirement," he added.
Recovery in the air
Passenger numbers have rebounded well since a downturn in demand for air travel that accompanied the financial crisis and recession in several countries.
The International Air Transport Association (IATA) said passenger traffic rose 9.2% in July compared with a year earlier. The strongest performance was in the Asia Pacific region, where growth rose by 10.9% year on year.
However, in Europe and North America, fragile consumer confidence could result in a slower pace of recovery, IATA's director general Giovanni Bisignani warned.
'A lot of new engineers'
In China, demand for pilots in could be twice or three times as great as the number going through current and planned training facilities, according to Mr Bisignani.
This might result in Chinese airlines recruiting pilots abroad, he predicted.
Boeing's forecasts are consistent with industry predictions of a doubling in air passengers by 2030, according to Jon Ostrower, a blog editor for the Flightglobal website.
By then, the skills airlines will require its staff to have could be drastically different, he said.
"You're going to need a heck of a lot of new engineers, at a time when a large proportion of engineers, certainly in the US, are retiring," he said.
"The focus for these skills will move to places like Brazil, home of [the aircraft manufacturer] Embraer, where the engineering workforce is significantly younger".