FSA accused over Keydata investment firm 'rescue'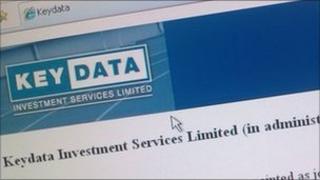 The founder of the collapsed Keydata investment firm has accused the Financial Services Authority of blocking a £30m rescue package.
Stewart Ford says he offered to inject new assets into Keydata to rescue some of the 5,500 investors to whom it had sold bonds from a Luxembourg firm, SLS.
After Keydata went bust in June 2009, it emerged that the £103m of SLS funds had been stolen by that firm's owner.
The FSA said Ford's offer had not appeared to be in investors' interests.
"On the basis of the information Mr Ford provided to the FSA at the time about his proposals to rescue SLS, we were unable to conclude that it was in the best interests of investors," said an FSA spokeswoman.
"Mr Ford is under investigation by the FSA and our concern about him is a relevant factor we have to consider in the context of any proposal he puts to us."
'No explanation'
Mr Ford said that in fact, the FSA and Keydata administrators PwC had not put his firm's clients first.
"To this day, the FSA and PwC have not offered any explanation as to why they rejected the SLS capital rescue proposal; however, their reasons are clear enough to me - it simply didn't fit their respective agendas," he said.
"From the FSA's perspective, it is critical to vilify me to justify the ill-considered and extreme action they took in placing Keydata into administration over an alleged ISA regulation compliance problem, which we maintain could easily have been resolved with HMRC were it not for the interference of the FSA," he added.
Keydata was put into administration by the FSA in June last year, because it could not meet an income tax bill after falsely describing some of its investment policies as tax-free ISAs.
It rapidly emerged that its customers to whom it had sold the SLS bonds - invested in turn in US second-hand life insurance policies - had lost all their money.
Then, earlier this year, the remaining 23,000 Keydata customers, who had paid £350m to buy similar investments from another Luxembourg firm called Lifemark, were told their money was at risk too.
Scrutiny
Mr Ford, whose stewardship of Keydata is still being scrutinised by the Serious Fraud Office (SFO) and the FSA, is widely regarded by the stricken investors as the villain of the piece, especially since it emerged that he had taken £39m in up-front commission for selling the bonds in the first place.
He has vigorously denied any wrongdoing and has repeatedly accused the FSA of acting too hastily in closing down Keydata, which he says was unnecessary.
Some of the SLS investors have already received £42m in compensation from the Financial Services Compensation Scheme (FSCS), up to its limit of £48,000 each.
In his latest broadside against the authorities, Mr Ford suggests his plan to inject some of his own assets into Keydata, just after its enforced insolvency, would have particularly helped the 410 wealthiest SLS investors, with investments far above the FSCS compensation level.
He said they had lost £30m between them - an average of more than £73,000 each.
In August, Mr Ford said he was working on another rescue plan, but for his former Lifemark customers.
He said he would offer to inject £13m into Lifemark - currently in severe financial difficulties - to give it enough cash to keep up the premiums on the underlying life insurance contracts it owns, to stop them lapsing in the next three years.
Separately, the Norwich & Peterborough building society is facing a crisis because it sold Keydata policies to more than 3,000 mainly elderly savers.
Some of them are now demanding compensation for mis-selling, which could run into tens of millions of pounds.