Tesco raises the price of milk paid to certain farmers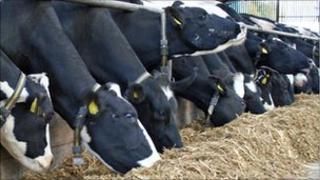 Tesco is raising the price it pays to its preferred group of milk suppliers by just over a penny a pint.
The new rate of 28.18p per litre is 1.28p higher than it had been paying and will come into effect at the start of October.
Milk is often at the heart of supermarket price wars.
Farmers groups have complained that they are often so squeezed on price they make a loss on every pint they sell.
On Thursday, shares in a leading dairy company, Robert Wiseman, fell by almost a third after it warned that stiff competition would affect its operating profits for the foreseeable future.
Analysts said aggressive supermarket pricing tactics were affecting Robert Wiseman's business.
'Significantly higher'
The higher price from Tesco will apply only to farmers who are members of its Tesco Sustainable Dairy Group.
The supermarket giant says that the new price is significantly higher than the average price of all other major supermarkets, which is 25.77p per litre.
The calculation was made by taking the mean value of the July milk prices paid by Sainsbury's, Asda and Morrisons as stated on the website milkprices.com
The increase follows an independent review of milk farming, which found a rise was necessary because of a rise in the cost of cattle feed.
The move was welcomed by the National Farmers Union (NFU).
Mansel Raymond, chairman of the NFU Dairy Board, said: "It is extremely encouraging to see that Tesco is committed to its pricing formula."
He said the members of Tesco's Dairy Group were able to invest in their businesses with confidence because of the system.