EU maternity plans 'unaffordable' says business group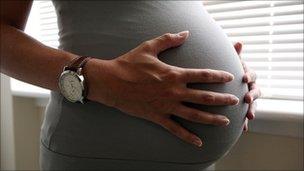 European plans to change maternity rights will cost UK firms £2.5bn a year, a business group has warned.
Under proposals to be voted on next month, women leaving work to have a child would be entitled to 20 weeks' leave on full pay.
The British Chambers of Commerce (BCC) argues this is unaffordable, especially in the current financial crisis.
However, others insist that it is wrong to allow policy to be influenced by temporary economic downturns.
Women in the UK are currently entitled to a year off, with the first six weeks on 90% pay, followed by 33 weeks on Statutory Maternity Pay of just under £125 a week. The remainder is unpaid.
The BCC put the bill for extending maternity pay at full pay in the UK alone at £2.5bn - using data from an assessment carried out on behalf of the European Parliament.
"This directive should be about setting minimum EU standards for the health and safety of pregnant workers - not adding new payroll costs for overburdened companies and national social security systems," said Kieran O'Keeffe, head of European affairs at the BCC.
"These figures confirm that the parliament's proposals are completely unaffordable as governments across the EU seek to deal with budget deficits and the aftermath of recession," he said.
The European Commission had originally proposed to extend maternity leave to 18 weeks, while allowing individual member states allowed to decide the level of pay.
That was a "better, more affordable option", Mr O'Keeffe added.
UK Independence Party MEP Godfrey Bloom said introducing the law would be "madness".
He added that as well as harming many small and medium-sized businesses, it would also make it harder for women, as employers would be less likely to hire those of child-bearing age because of the potential costs they faced if the employee fell pregnant.
But chief executive of the National Childbirth Trust, Belinda Phipps said the objections to the proposed new law were invalid.
"It's absolutely right that those people, having had a baby, have the ability to be able to choose to be at home with that baby for a period of time that's going to enable them to feed a baby and build a relationship with a baby," she told the BBC.
"Those babies form the population of the future, so we shouldn't be letting a temporary financial crisis drive our policy on supporting new mothers."
Related Internet Links
The BBC is not responsible for the content of external sites.