Obama asks Elizabeth Warren to set up consumer agency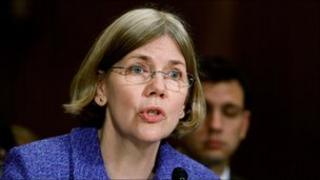 President Barack Obama has confirmed Elizabeth Warren as a special adviser to set up a US consumer agency.
The creation of a Consumer Financial Protection Bureau (CFPB) was part of the Financial Reform Bill signed by Mr Obama in July.
By becoming an adviser rather than head of the agency, Mrs Warren avoids Senate hearings which may have stopped her nomination.
She has angered some lawmakers because of her strong criticism of banks.
A Harvard law professor, she made her acceptance statement on the White House Blog, saying "the time for hiding tricks and traps in the fine print is over. If the CFPB can succeed at levelling the playing field, we can go a long way toward repairing a gaping hole in the budgets of millions of families".
Mr Obama said that as the agency was Mrs Warren's idea, it made sense that she should be "the architect" working with Treasury Secretary Timothy Geithner to get it up and running.
"From now on, consumers will... have a tough, independent watchdog whose job it is to stand up for their financial interests, for their families' future," Mr Obama said.
The idea of a consumer agency has been very contentious. Critics believe it adds unnecessary red tape to the financial services sector and makes it more expensive for consumers to get access to credit.
Criticism
Mrs Warren is not new to Washington. For the past two years she has headed the Congressional Oversight Panel which monitors the $700bn fund set up to rescue banks.
According to the Financial Reform Bill, she will have a year to create the agency, with a possible six-month extension, before the head of the CFPB will have to be announced.
However, there are questions about whether bypassing the confirmation process will limit her authority.
The US Chamber of Commerce criticised the method of her appointment as "an affront to the pledge of transparency and consumer protection".
And Matt McCormick, a banking analyst at Bahl & Gaynor, said the political nature of her appointment will make it difficult for her to unite diverse interests.
"I really doubt she will have the ability to bring people together... It is troubling," said McCormick.