US consumer prices rise 0.3% in August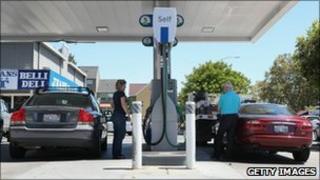 Consumer prices in the US rose by 0.3% in August, official figures have shown, reflecting a jump in petrol prices.
Energy prices helped to push inflation up, with prices in the sector rising 2.3%. The biggest contributor was a 3.9% rise in petrol prices.
Food prices, which had fallen slightly in July, rose by 0.2% in August, the Labor Department said.
"Core" inflation - a measure which strips out volatile energy and food prices - was unchanged.
'Mildly encouraging'
Uri Landesman, from the investment managers Platinum Partners, said the figures were slightly higher than expected.
"I think the market is more worried about deflation than inflation, so this could be a relief to those worried about deflation, but ultimately I wouldn't put too much stock in it," he said.
"In general, the market is doing a lot better in September than I thought we would be doing, and that's because the data has been better than we thought it would be. I'm not declaring victory yet, but it is mildly encouraging."
Faltering confidence
Meanwhile, a key measure of consumer confidence has shown that worries over the economy may be getting worse amongst better-off Americans.
The Thomson Reuters/University of Michigan index of consumer sentiment unexpectedly fell for the first part of September, to the lowest level in more than a year.
People living in households with incomes of more than $75,000 (£48,000) were on average more pessimistic than they were in August, while confidence among those earning less rose.
That may be because of uncertainty about whether federal tax cuts for the highest earners would be extended beyond the end of the year, according to the survey director Richard Curtin.