Manufacturing firms still struggling to get bank credit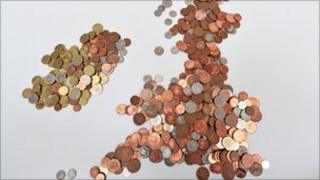 The amount of bank lending to UK manufacturers has barely changed in the past two months, according to a survey by the EEF engineering group.
This is despite the government and business leaders stepping up calls for banks to relax borrowing to business.
The survey found that the few companies reporting easier access to finance were medium to large businesses, with the cost of new credit slightly up.
But small firms are still struggling to get new lending, the survey found.
The picture was confirmed by the Bank of England. Its monthly Trends in Lending report for September reported that lending to businesses by all banks based in the UK and building societies had fallen by £2.5bn in July.
"Net lending flows to UK businesses have remained subdued since the end of 2008," the Bank said.
"Contacts of the Bank's network of agents noted that while credit conditions were easing for larger businesses, they remained tight for smaller firms," it added.
'Supply of finance'
The EEF's report comes as the deadline closes for submissions to the government about the Access to Finance Green Paper, which is examining bank lending conditions and companies' access to credit.
Over the past two months the overall cost of credit for manufacturers was almost unchanged, the EEF survey of 323 companies suggested.
During the period, 31% of companies reported an increase in the overall cost of credit compared with 34% in the previous survey.
But the cost of new borrowing rose for 37% of companies, up from 32% previously.
Lee Hopley, the EEF's chief economist, said: "Despite the pick-up in the economy, too few companies are seeing a significant improvement in lending conditions.
"This was never likely to be a swift or easy process, but we are concerned that the rise in the cost of new borrowing may be signalling that the supply of finance is not able to keep up the upturn in manufacturing activity," she said.