Flybe reports continued profits despite recession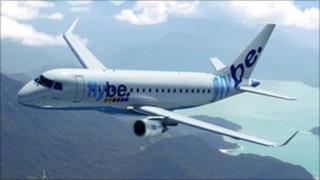 Specialist regional airline Flybe has reported £5.7m ($8.9m) annual profits for the year ending March 2010.
The results mean that the UK firm stayed in profit throughout the recession, having just broken even with £0.1m the previous year.
However, underlying profits - which ignore exceptional gains and losses - fell from £12.8m to £6.8m, despite passenger numbers remaining unchanged.
The privately-owned Exeter-based firm is the UK's biggest domestic carrier.
Flybe's chairman, Jim French, claimed that it was "one of only three major European airlines that have reported profits throughout the recession".
The company specialises in short-hop flights, lasting one hour or less, and using smaller aircraft than its rivals.
Having acquired British Airways' UK internal flights subsidiary - BA Connect - in 2007, the company is now seeking to roll out its "regional" business model across the rest of Europe.
Flybe has agreed a code-sharing deal with Air France and a regional operations agreement with Olympic Air of Greece.
The company is also in talks with Finnair about regional services in the Nordic region.