Fake website 'takes seconds' to set up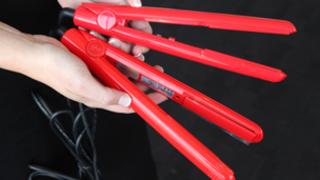 Setting up a copycat website to sell fake goods only takes a few seconds, according to a computer expert.
Some websites are so sophisticated they add counterfeit security certificates to fool shoppers, said David Holman, of First Cyber Security.
He issued the warning as the Trading Standards Institute said many items ordered online have failed to arrive.
There has been a four-fold rise in the number of fake goods seized at UK borders in the last 10 years.
More than 3.7 million counterfeit goods were seized last year.
Copycats
Mr Holman said that it was "extremely simple" for people to clone a legitimate website in order to sell fake products, but there were different levels of sophistication to trick internet users.
Other fraudsters have used links to "bargains" sent via social networking sites, internet forums and in e-mails, which also prove to be fake or are used to fish for people's banking details.
The number of complaints about counterfeit goods to helpline Consumer Direct have risen sharply in recent times. There were 1,958 complaints in the 2008-09 financial year, rising to 2,801 the following year.
Andy Foster, of the Trading Standards Institute (TSI), said that many consumers were unwilling participants in the black market, with some unaware that they were ordering fake goods online rather than the real thing.
A small sample of 800 people visiting the TSI website found that 28% of those asked had suffered problems shopping online. A half of those said the items had not been delivered and 19% said the goods were fake.
By definition, people visiting the site were more likely to be aware of these issues or to be looking for advice.
In one case, Chris Allan, from Fife, became suspicious after buying a pair of hair straighteners, which were delivered in a tatty box.
The 46-year-old said she checked the product's hologram code number on the official supplier's website and found them to be fake.
Mr Holman, who said that millions of pounds were lost in unpaid tax on fake goods, urged people to follow a checklist including:
Choosing shopping websites carefully
Thinking about the price, where it is bought from and the packaging
Ensuring the site is secure by looking for a website address starting with https
Keeping a copy of the order and details of the website
"Do not get taken in by a professional-looking website or seemingly irresistible bargains," said Intellectual Property Minister Baroness Wilcox.
"Fake goods can pose a serious risk to health and safety. Poor quality electrical goods can cause fires and electrocution. Just this month a teenager was badly burnt after buying seemingly genuine hair straighteners."
Cost effective?
Many people buying fakes will think they have secured a bargain, but this could cost them in the end, according to Phil Buckle, director general of the Electrical Safety Council.
"We understand that cost, particularly in these financially difficult times, is a major concern," he said.
"However, there is a risk that comes with buying electrical goods online, as their origins and reliability are not always guaranteed.
"We certainly are not saying do not shop via the web. But it is well worth taking basic precautionary steps to make sure you do not get caught out."