Irish bond sale raises 1.5bn euros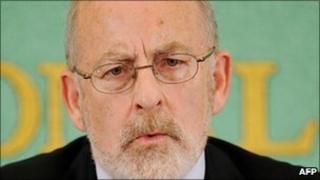 The Irish Republic has raised 1.5bn euros ($1.96bn; £1.26bn) through an auction of government bonds.
The sale of four and eight-year bonds was seen as a crucial test of investor confidence in the country's economy.
The National Treasury Management Agency (NTMA) said overall the bonds attracted bids 3.6 times the amount on offer.
Separately, Spain also raised just over 7bn euros through a bond issue while Greece said its debt issue was heavily subscribed as it raised 390m euros.
"The results confirm that today's [Irish] auction was successful, as we had expected, and that investors' appetite for Irish government bonds has remained strong despite the market volatility of recent weeks and market panic about the country's public finances, reflected in the recent rise of borrowing costs," commented Sonia Pangusion of IHS Global Insight.
The country's borrowing costs have risen on fears that weak economic growth and the cost of bailing out its banks will push the economy into a debt crisis.
'Fully funded'
The Irish sale was the ninth of its kind this year.
The four-year bonds will pay a yield of 4.77%, while the eight-year bonds will pay 6.02%.
The NTMA said the country had now achieved its target of raising 20bn euros from the bond markets in 2010.
"Allowing for cash balances, retail debt and the long-term funding carried over from last year, the Exchequer is now fully funded through the first half of 2011," the NTMA said in a statement.
Yields on existing Irish 10-year bonds had reached record highs on Monday of 6.56%, more than four percentage points above the yields of benchmark German bonds, a sign of increasing market scepticism about the country's ability to pay its debt.
However, after Tuesday's auction, the yield fell to below 6.3%, 3.7 percentage points above German bonds.
'Alarmist commentary'
Both the Irish central bank and finance ministry have played down fears that the country may need a bail-out from the International Monetary Fund (IMF).
On Monday, central bank governor Patrick Honohan hit out at the "alarmist commentary" regarding the country's economy.
He said the government had already taken "prompt and painful" steps to deal with its deficit.
"It has kept to the targets it set for net budgetary savings in 2009 and 2010. If the economy stays close to the track originally envisaged, the deficit would come close to 3% (of total economic output) by 2014," he said.
Following the bond sale, IHS's Sonia Pangusion said: "The results also indicate that the markets somehow overreacted to the recent rumours that the International Monetary Fund is advancing towards Ireland."