Stena Line boss under fire over 'fat' jibe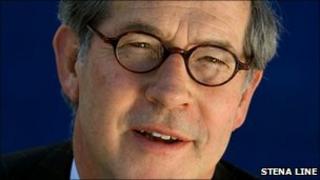 The British RMT union has criticised the boss of Stena Line for making comments calling British workers "fat" and "tattooed".
The director of Stena Line's North Sea route, which runs between Harwich and the Hook of Holland, was quoted as saying UK workers were "quite fat and covered in tattoos".
Pim de Lange said he was quoted out of context and has apologised.
But Steve Todd, head of maritime at the RMT, has called for a fuller apology.
Stena employs a mix of nationalities on its vessels, mainly British, Dutch and Filipino.
Mr de Lange's comments appeared in a Dutch newspaper, in which he also said it was hard to find British workers who were young and fit for the job.
He later said in a statement: "I regret any offence caused and apologise."
But Mr Todd said this did not go far enough.
"RMT is demanding a full retraction of all the statements he has made and a full apology to all British seafarers for his behaviour," he said.
He is also calling on Stena itself to publicly distance itself from Mr de Lange's remarks and to give an apology on behalf of the company.
The RMT, which represents rail, maritime and transport workers, has been pressing the company to use a higher proportion of UK staff on its vessels.
It says Filipino workers are paid £2.20 an hour, a far lower rate than that paid to British workers.
Stena has pledged to use more UK seafarers on its new superferry, the Stena Hollandica, than it has been on its sister ship, the Stena Britannica.