US housing starts rise 10.5% in August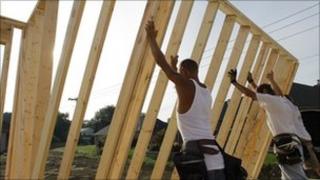 The number of new houses started in the US rose to their highest level in four months in August, Commerce Department figures have shown.
Housing starts rose 10.5% last month - the largest increase since November - to a seasonally-adjusted annual rate of 598,000 units.
A rate of 550,000 had been forecast.
The data suggests the housing market may be starting to stabilise after the end of a tax credit for first-time buyers which expired in April.
Year-on-year, housing starts were up by 2.2%.
'Solid rebound'
New building permits, which signal future home construction, rose 1.8% in August, after dropping 4.1% in July.
"The starts number is a solid rebound from the low of July, but the number is still distorted from the tax credit," said Robert Dye from PNC Financial Services in Pittsburgh.
But he added: "I still see a recovery in housing for the rest of the year."
A survey by the National Association of Home Builders on Monday showed sentiment among home builders remained at an 18-month low in September.