Arsenal aim to be global top Gunners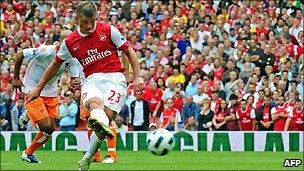 Arsenal was once the quintessential English football club, with its impressive marble hallways at Highbury stadium and high-tempo football on the playing field.
Highbury has now been replaced by the modern Emirates Stadium, while Arsene Wenger has the club playing some of the most stylish passing football in Europe.
And there have been other changes under way in north London, as the club looks to US business know-how to promote its brand around the world.
Former Quaker Oats, NBA, Nike and Gatorade executive Tom Fox is Arsenal's chief commercial officer, with more than 20 years of selling American brands overseas.
His task is now to sell the club outside the UK in the way that Chelsea, Manchester United and Liverpool have done.
"It is different from marketing a cereal brand," says Mr Fox, who was brought into his newly-created role last autumn to oversee all of the club's commercial efforts worldwide.
"Success has a lot to do with it," he says.
"Putting the basic successful product out on the field - like our 6-0 victory over Braga - is a huge component of our brand."
But he warns: "Football is not like making cereal, where you can guarantee what the customer will get when they open the box.
"Sport is unique - if the team does not have that success on the field then that makes it more difficult for us."
As the club's commercial operation cannot affect what happens on the field of play, Mr Fox says it must concentrate on other areas of the business model which it can influence.
"We spend a lot of time working on how we can build a successful model that is not so relying on winning," he says
"It is about insulating ourselves," he says at a Sports Marketing 360 event in London.
As part of that aim to promote the club business as a whole entity, rather than just the playing side of things, Arsenal has announced a new global media initiative.
At present the club has media partners in Romania, Hungary, Slovakia, Czech Republic, Bosnia and Herzegovina, Serbia, Montenegro, Croatia, Italy, Ghana, north and sub-Saharan Africa, Finland, France, the Middle East and Israel, Malaysia, Brunei, Hong Kong, Australia and Vietnam.
According to the brochure unveiling its global media strategy, the club's plan includes finding TV and multi-media partners around the world, including the major markets of India, China and US.
These are markets which most large football European clubs have been looking to crack.
Among the content on offer is "Arsenal World", operated in conjunction with club media partner MP & Silva, an initiative which the strategy document advertises as "giving viewers a new angle into the players' lives".
It will include players talking about interests such as fashion and style, talking about their heroes, and recounting their favourite journey.
The club media plan also means it is looking to increase its digital media output, covering online, premium broadband, mobile phone applications, internet TV, and video on demand.
And Mr Fox says he believes that the mixture of Arsenal's global PR and an increased thirst for televised sport in India and China can help the club break new ground.
"There are 104 shops in China where Arsenal FC merchandise is sold." says Mr Fox.
"In 12 to 18 months, we will be looking to get Chinese young students to write stories about Arsenal Football Club.
"That will be more important than anything we can do with those stores.
"To get into a market like China, which is increasingly cluttered, not only with other football brands, but also names like Jeep, is not easy.
"To get through that we have to show them that Arsenal is different, expose them to our brand, get our message over."
However, Mr Fox offers a few words of caution, pointing out that Arsenal's revenues were £240m in the 2008-09 season.
"We must remember we are a £240m brand launching in Asia and the US, and potentially in India, when we know that billion-dollar brands are also looking to launch there."
Yet when it comes to the US, Arsenal seems well prepared in its drive to break into the market, as Mr Fox is part of a trio with American roots at the helm of the club.
Chief executive Ivan Gazidis, although South African-born, had been running MLS league soccer in the US, while Denver sports tycoon Stan Kroenke is major shareholder.
And Mr Fox also praises manager Arsene Wenger as "a very bright man" and an essential part of the club as it moves forward on and off the field.
"A football business has a different focus from a regular business," Mr Fox says.
"We are in the business of winning football matches."
To that end he says any extra money that the club generates from expanded commercial operations would be put into the football side - be it player fees, medical facilities, or scouting.
"If you look at where Arsenal sits relative to other clubs in Europe we would love to have more money to spend on players," he says.
But, perhaps alluding to current events at Liverpool, Mr Fox adds: "We are not here to make money so that investors can walk away with a huge return."
There is no doubt that the commercial and branding operations of top English football clubs has changed immensely since the formation of the Premier League in the 1992/93 season.
And Mr Fox says that despite the massive changes football always has to be focusing on its next direction.
"Sport is an unusual environment and the game [football] is changing," he says.
"You don't have to fear for yourself like you did sometimes in the 1980s, and football is putting itself into different areas, including reaching out more to women.
"Football has been so big, grown so successfully, that it probably has not asked enough hard questions of itself.
"In five to 10 years' time we are going to have to ask: 'Where are we going to go to grow our business?'."
Related Internet Links
The BBC is not responsible for the content of external sites.