Ikea makes steps in India's growth market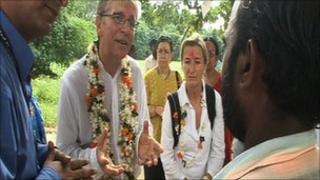 Two hours from Varanasi, the beating heart of Hinduism in the Indian state of Uttar Pradesh, a small village anxiously awaits a big visit.
As a cavalcade of white vans arrives and the people pile out of their vehicles, there is an obvious sense of nervousness in the air and a flurry of excitement and activity on the ground.
Mikael Ohlsson, the chief executive of furniture giant Ikea, makes his way to a group of women gathered to perform aarti, or a traditional welcome and blessing of guests. He folds his hands and says, "Namaste."
Rural India is not the place you normally expect to find CEOs like Mr Ohlsson. But for the Swedish company, his visit is sending a subtle message - it is a gentle nudge to the Indian government.
We are here, it says, we are working on the ground and we will stay in India for the long haul.
In the 1990s several multinational companies were accused of sourcing products from firms based in countries like India that used child labourers. Since then companies including Ikea have been tackling issues of ethical production and working to ensure that their products are free from worker abuse and exploitation.
The United Nations Fund for Children (Unicef) estimates that in Uttar Pradesh alone approximately 1.9 million children between the ages of six and 14 are working.
In an effort to ensure that its suppliers are not employing young children or forcing people to work in difficult conditions Ikea has spent hundreds of millions of dollars in India to create sustainable audit and transparency networks.
This year Ikea says it will spend about $163m on grassroots development programs in India alone, and has been working with agencies like the United Nations Development Programme and Unicef.
Ikea says the money is being spent on female empowerment, health awareness, education and industry-based programs that will ultimately benefit 100 million women and children.
Big money, big plans
This is not just your standard social responsibility initiative. Mikael Ohlsson's visit is also about business - big business - and comes at a time when Ikea is thinking about doubling its production of home furnishings in India.
Ikea claims that India, with a population of more than 1.1 billion and economic growth of almost 9%, could be a market as big and as lucrative as Europe.
And the growth of India's middle class certainly bolsters such sentiment. Experts say the country's middle class is now making and spending more money than ever. They are also willing to try out foreign brands and labels.
But while the Swedish firm has more than 300 stores in more than 40 countries, it is yet to open one in India, South Asia's biggest market.
Ikea has come close to setting up shop in India, but has never done it. Last year it shelved plans to open 25 stores across the country with an investment of $1bn. In doing so the company claimed that India's foreign direct investment (FDI) regulations were not yet amenable enough.
As things stand today the only way that Ikea can trade in India is through a joint partnership where a 49% stake of the venture is held by a local Indian firm.
While there may be many willing candidates keen to team up with the Ikea brand name, Mr Ohlsson says a joint venture is simply not an option.
When asked about the possibility of a compromise, Mr Ohlsson adds that Ikea has spent years streamlining costs, making investment money go further, and cutting out middlemen.
As a result, he says, introducing a foreign partner into the mix now is not something that is under consideration.
The India model
India's tough foreign investment rules mean that India's retail market remains relatively uncharted by foreign companies.
Analysts warn that as the government further tightens the processes and procedures needed to gain entry, setting up shop here may become an even harder task.
They add that recent rulings by the government and courts against firms in the mining and telecommunication sectors suggest that India wants foreign companies to contribute more than just business know-how.
For executives like Ikea's Mr Ohlsson the hope is that their slant on grassroots development will show the Indian government that they are ready to go that extra mile.
And that their business model will make sure that everyone benefits.